The good: The HTC Droid Incredible is blazingly fast, thanks to Verizon's 3G network. HTC Sense enhances the features of Android 2.1, and the smartphone features an 8-megapixel camera and 8GB of internal memory. Wi-Fi, Bluetooth, GPS, and 3G are all onboard.
The bad: You can't use voice and data at the same time. The multimedia experience is adequate but still behind the competition.
The bottom line: With its polished design and user interface and blazing fast speeds, the HTC Droid Incredible takes pole position as Verizon's top smartphone and is now the Android device to beat.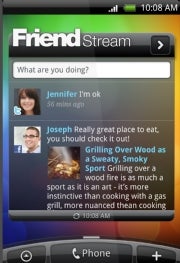 Impressive 8-Megapixel Camera
While 5-megapixel cameras seems to be the standard for high-end smartphones for right now, expect to see a lot more 8-megapixel camera phones in the near feature. Overall, I was impressed with the Droid Incredible's camera, but I didn't think it was as good as the Sony Ericsson XPERIA X10. You press the haptic mouse to snap pictures, which works okay, but I found myself wishing there was a dedicated camera key on the phone's spine. The phone just didn't feel as steady in my hands and sometimes my pictures looked a bit blurry. Otherwise, I was very impressed with my outdoor shots. Colors appeared bright and natural, details looked sharp. There was also very little shutter lag. My indoor shots looked good as well, though a few had a bit of yellowish tint. The flash also seemed a bit unpredictable as to when it decided to go off, as well. Many of my indoor shots were pretty well lit so when the flash went off, details and colors were blown out. Nighttime snapshots looked good, however-better than most smartphone cameras with flashes.
The Droid Incredible can shoot high resolution video up to 800-by-480, but you can't shoot 720p quality video. The camcorder is fine for quick clips, but I was disappointed by the slight pixelation in my videos.
I do wish that HTC would have updated the Sense media player. It is slightly prettier than the dull-as-dirt Android player, but I prefer iTunes or Palm's webOS player. Audio playback sounded good, though and the player supports a respectable range of audio and video formats.
Video playback over YouTube was as good as YouTube can be. I downloaded a few movie trailers, however, and was impressed the smooth playback, sharp details and clean colors. The Droid Incredible also supports Flash Lite, but I had trouble playing Flash content. I also encountered this problem with the HTC Hero on Sprint.
The HTC Droid Incredible might be the best Android phone available–it certainly is the best on Verizon. But how will it compare with the incoming iPhone 4G with its alleged front-facing camera and higher resolution display? Smartphone shoppers will have some enticing choices this summer, that's for sure.